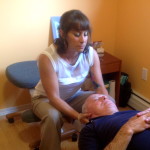 Chiropractic is the science, art, and philosophy of locating and removing interference of the transmission of nerve force in the human body for the purpose of restoring and maintaining health. Chiropractors often refer to this interference as a subluxation, which means there is both a change in joint alignment and mobility and disruption of proper nerve flow.
The nervous system is made up of your brain, spinal cord, and nerves traveling from your spine to every location of the body. When the spine loses healthy balance, it creates abnormal tension on the spinal nerves, and distorts their ability to communicate efficiently with the rest of the body. This can occur in the presence or absence of pain, or may become painful over months or years.
For example, fixations of the vertebrae of the neck may present with neck pain or cause headaches, earaches, sinus problems, or tingling in the hands. Chiropractors do not treat symptoms, they locate the areas of dysfunction and relieve the tension on the nerves so the nervous system can function at its optimal level and the inherent recuperative power of the body can take over.
Adjustments are safe and gentle, and may be performed by hand, using a special table with drop-away sections to help put the joint into motion, and also by a specific, low-force adjusting instrument called the Integrator.
Please check out my blog post "10 Things Most People Don't Know About Chiropractic" if you would like to learn more. It addresses most of the common questions and concerns people have when considering visiting a chiropractor for the first time. Or, CLICK HERE to learn about what to expect at your first visit, the cutting-edge technology that makes this chiropractic experience unique, pricing, and how to get started on the path to wellness!