Becoming a Wellness member is easy; it simply requires your commitment. Only you can take control of your health and become a better you.
Simply fill out and submit a New Member Form or Free Consultation Form, and we will contact you regarding an appointment. If you wish, give us a call or Email Us and we will be happy to answer any questions you may have.
Upon a full examination, including a scan of the Nervous System using the Insight Discovery Subluxation Station, Dr. O'Maley will review your findings and discuss with you the wellness plan she feels you require in order to achieve optimal health and wellness. With your commitment to health, you are automatically enrolled as a member of our Community.
Optimal Health is by Choice, not Chance.
Day 1: Consultation and Chiropractic Examination
Your first visit will take approximately 45 minutes. Please remember to bring your completed health history and signed informed consent forms if you have not already provided them to Dr. O'Maley before your visit. These will be sent to your e-mail address when you schedule your chiropractic evaluation, or they are available to download on our forms page.
Next, you will have a consultation with Dr. O'Maley to discuss your health-related problems and concerns. The initial visit is designed for Dr. O'Maley to learn more about you, your condition and  expectations to determine how chiropractic care can meet your goals.
After your consultation, a complete chiropractic examination utilizing the most state of the art diagnostic equipment will be performed.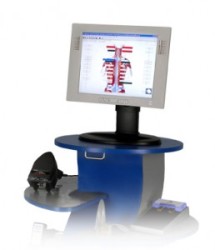 1) ROLLING THERMAL SCAN – The first part of this examination process involves reading spinal heat differences from one level of the spine to another, as well as from one side of the spine to the other. Heat is a byproduct of circulation, which is controlled by the autonomic nervous system. From this we can see how subluxations may be affecting the function of your nervous system.
2) sEMG SCANS – The second part of this examination is on the surface of your spinal area to evaluate surface electrical impulses and measure them along your spine. This helps measure the effect of subluxations on the motor nerve system and the affect subluxations may be having on your muscles. Both of these scans are non-invasive and very comfortable
3) HEART RATE VARIABILITY – The third part of the examination measures the beat to beat timings of your heart to evaluate your nervous system's overall functional state, ability to adapt, cope with stress, and coordinate and control every function of the body.
All of these tests are performed to identify any areas of neural compromise which could adversely affect the way your body functions and ultimately effect your overall health. The results obtained in these tests are used to calculate a number from 1-100 to evaluate your overall NeuroSpinal Functional Assessment, or COREscore.
X-RAYS – If during your physical exam it is determined that imaging on a particular area will be of value, you will be referred to an imaging center for X-rays before your second visit. Dr. O'Maley will evaluate this information obtained during your examination before your second visit, report of findings and first adjustment.
Day 2: Report of Findings and Your First Adjustment
Once the initial evaluation is complete, you will be scheduled for a follow up appointment where Dr. O'Maley will give you a detailed report of the exam findings, recommendations for care and answer all questions including:
Can chiropractic help me?
How often do I need to come in?
How long will it take?
How much will it cost?
Dr. O'Maley will deliver her findings and recommendations, and go over your interpreted Insight scan and CoreScore with you, which will show you exactly how stress is affecting your physiology and impacting your overall health. You will be able to review this report online at your convenience 24/7. If it is determined that you are a good candidate for chiropractic care, once all of your questions have been answered, Dr. O'Maley will deliver your first adjustment. Most people are surprised how gentle and comfortable adjustments can be.
Do you accept health insurance?
We have very affordable fees and payment plans and care for many people without insurance coverage for our services. We make it a point to care about people, not insurance policies.
Patients are responsible for payment at time of service. Although we do not accept any health insurance plans, but are able to provide you with a bill to your e-mail address which you will be able to submit to your health insurance provider for reimbursement if they cover chiropractic treatment. By not collecting payment from health insurance providers, we are able to limit our time spent on paperwork, which allows us to keep our fees as affordable as possible and focus on providing you top notch chiropractic care.
What will it cost?
Initial (New Membership – 2 Visit Package)
$125.00 One-time fee
Includes:
·        Initial Comprehensive Exam (Visit 1)
·        Report of Findings (Visit 2)
·        Customized Care Plan (Visit 2)
·        1 adjustment (Visit 2)
Adjustment
Adults: $50.00
Children (under 17):  $35.00
Re-exam (every 12 visits)
Adults: $50.00
Children (under 17): Free of charge
Wellness Package Membership  (After Initial Intensive Care Phase has been completed)
4 visits/month $174.00
–Add a family member for $156/month
–Add 2nd family member for $75/month
–Each additional family member $50/month
Concierge visits are available within Gloucester and Rockport for an additional fee.
Our bodies are designed to be healthy, and chiropractic care helps to restore optimum function as support to health.