At your first visit, you will receive a full chiropractic examination of your spine and musculature, including a scan with the cutting edge three-technology Insight Discovery Subluxation Station. After reviewing your results, Dr. O'Maley will go over your findings and discuss with you the plan she feels you require in order to achieve your personal goals.
Optimal Health is by Choice, not Chance.
Day 1: Consultation and Chiropractic Examination
Your first visit will take about 45 minutes to 1 hour. You will have a consultation to discuss your health-related problems and concerns. The initial visit is designed for Dr. O'Maley to learn more about you, your condition and  expectations to determine how chiropractic care can meet your goals.
After your consultation, a complete chiropractic examination utilizing the most state of the art diagnostic equipment will be performed.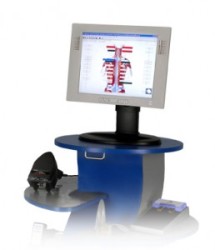 1) ROLLING THERMAL SCAN – The first part of examination process checks for temperature differences along the surface of the skin at each level of the spine. Heat is a byproduct of circulation, which is controlled by the autonomic nervous system, the system that is responsible for organ and gland control. The image produced shows exactly where imbalances of the spine are effecting body function.
2) sEMG SCANS – The second part of this examination is on the surface of your spinal area to evaluate surface electrical impulses and measure them along your spine to determine how hard your muscles are working to maintain your posture under gravity. We can see which muscles are overactive, working harder than they should be, as well as if any have become weakened with long term stress. If a patient is experiencing pain, this scan of muscle tone and balance is usually very enlightening.
3) HEART RATE VARIABILITY – The third part of the examination measures the beat to beat timings of your heart to evaluate your nervous system's overall functional state, ability to adapt, cope with stress, and coordinate and control every function of the body. It tells about the body's reserve for coping with additional lifestyle stress and ability to heal and self-regulate.
The results obtained in these tests are used to calculate a number from 1-100 to evaluate your overall NeuroSpinal Functional Assessment, or COREscore. This objective benchmark for periodically measuring and evaluating your success makes this practice unique.
Day 2: Report of Findings
Once the initial evaluation is complete, you will be scheduled for a follow up appointment where Dr. O'Maley will give you a detailed report of the exam findings, recommendations for care and answer all questions including:
Can chiropractic help me?
How often do I need to come in?
How long will it take?
How much will it cost?
Dr. O'Maley will deliver her findings and recommendations, and go over your interpreted Insight scan and CoreScore with you, which will show you exactly how stress is affecting your physiology and impacting your overall health.
Do you accept health insurance?
It is a priority to keep fees very affordable and to provide chiropractic care to everybody who needs it, not just for symptom management, but the restoration of health, and not working with insurance companies allows this to be possible.
Patients are responsible for payment at time of service. By not working with insurance providers, Dr. O is able to limit the time spent on paperwork in order to keep fees as affordable as possible, and the sole focus to remain on providing you top notch chiropractic care. There are options available for those with financial hardship.
What will it cost?
Adjustment
Adults: $45.00
Exam (First visit, then every 12th visit)
$50.00
Concierge visits are available within Gloucester and Rockport for an additional fee.
Our bodies are designed to be healthy, and chiropractic care helps to restore optimum function as support to health. Make your appointment online right now, or by calling (978) 381-3050.