Restoration of Posture, Maintenance of Health, Peak Performance, TMJ, PMS, Cramps, Headaches, Ear Infections, Neck, Back, Hip, Smoking Cessation, Hormone Imbalance, Digestive Problems, Autoimmunity, Food Sensitivities, Gluten Intolerance, Scar Tissue, Tendonitis
Hi, I'm Dr. Erin O'Maley!
I love working with people who are ready to transform their lives through their health and discover their best self. I show them how to stay well, get better and feel alive by teaching the Four Pillars of Wellness: Chiropractic, Nutrition, Healthy Movement, and Mindfulness. I give them the tools they need to look and feel awesome, avoid the health struggles their parents faced, and become confident leaders in their family's health.
With our modern lifestyle, too many people are just surviving and not thriving. I understand the body has an incredible capacity for healing when freed from chemical, physical and emotional stress.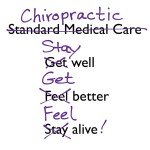 I graduated from University of Massachusetts Boston before earning my Doctorate of Chiropractic from Palmer College of Chiropractic in Port Orange, Florida. I've completed training in Functional Medicine with Functional Medicine University, in restoring balance in the organ systems, healing the gut, hormone and immune function. I've worked with all types of patients: Athletes looking to improve their performance and avoid injury, young professionals too soon feeling the ill effects of a modern high-stress lifestyle, inpatients recovering from addiction, and families who want to grow together into a healthier future.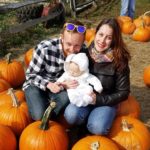 When I'm not working with patients, writing or teaching, I can be found taking hikes on local trails with Colin, our baby boy, and our two dogs, admiring my vegetable garden, binging on sci-fi and fantasy books or shows on Netflix, or gathering around a fire with family and friends.
If you want to know more, here are some other facts about me.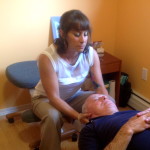 My parents are both teachers. My dad was forced into early retirement from a type of "sick building syndrome" that many refused to acknowledge existed, and my mother always suffered with incapacitating migraines. I discovered chiropractic when I learned it was known for helping people with problems that were not helped with standard medical care.
I've worked a crazy variety of jobs through school and starting my practice – Daycare, IKEA, Blue Man Group, bartending, TurboKick® fitness instructor, a cookie factory, and a haunted house.
I've seen The Killers perform four times in three states.
I love traveling and am a longtime member of CouchSurfing.org, some highlights have been: Diving in the Cayman Islands, sailing in the British Virgin Islands with my dad, touring the Swiss Alps with local friends, and serving hundreds of people with chiropractic care during a 3 day mission trip to the Dominican Republic.
I avoided sports in school and was always considered unathletic. I was well into adulthood before I discovered that I am an athlete and what types of training make me feel best.
I hope we can work together to help you find your best!
You can start working with me right now by scheduling your first visit , where I will take time with you to learn about your health history and goals, perform an exam of your spine and use special scans to assess your spinal balance and the paths of nerve communication between the brain and body. Be sure to join my wellness community by subscribing for updates, so you don't miss all the great stuff that's coming soon!
Are you thriving or just surviving?
Enter your name and e-mail to join our revolutionary wellness community.